MatrixQMS - What do the labels in the CAPA project mean?
When creating a CA or PA items in the CAPA project, the label is automatically set to: not set.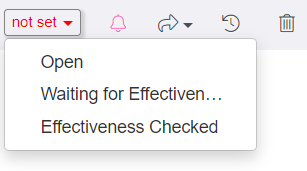 This is a dropdown label which allows you to indicate and change the current status of your corrective or preventive action.
You should describe in a PROC or WI how your organization deals with it.
In general you have 3 states
Open, that you set while you work to define the issue and implement the actions
Waiting for effectiveness check, after implementation while waiting for the effectiveness check
Closed once you the effectiveness check has been performed
These labels are configurable. More information on labels can be found here: Defining Labels